Certificate Program
Faculty Academy on Teaching First Year Students
CERTIFICATE PROGRAM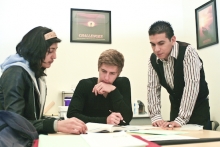 Background
UC Merced is a research intensive, Hispanic serving university with over a 170 faculty members teaching first year students. The First Year Experience for Faculty community focuses on first year students' teaching challenges and solutions and has served as a model for faculty development, helping shape teaching and learning at UC Merced. It was established in 2010 by a collaboration between Student Affairs and the Center for Engaged in Teaching and Learning (former Center for Research on Teaching Excellence) and has been re-organized in 2016 with the concept of having a Faculty Academy on Teaching First Year Students offering a Certificate Program at the center of the reorganization. The CETL is pleased to announce and invite applications for the 2016 Certificate Program. This CETL's Certificate Program supports the work of faculty members whose scholarship focuses on the university mission of teaching and research and addresses the expected faculty growth in mind.
Target Audience
The application for funding is open to new and returning, senior and junior faculty teaching first year students at UC Merced and may be made by individuals or by collaborative groups. Individual participating in the Certificate Program will be considered as members of the Faculty Academy community.
Goals
Explore the instructional needs of first year students and plan support activities.
Connect faculty with peers to share ideas on learning theories and pedagogies about teaching first year students, both seminal and emerging.
Promote evidence-based practices among faculty teaching first year students at UCM
Build a coalition of educators committed to first year student success who will act as change agents for student-centered learning at a research university.
Develop resources for all instructors teaching first year students, with publication in the Faculty Academy website.
Outcomes
During the length of the program, participants will:
Identify and develop a classroom-based topic of interest
Craft research questions to explore that topic
Determine type(s) of data needed
Determine appropriate methods and analysis
Collect data
Analyze data, write up results and conclusions
Present project to the Teaching Academy community
Description of the Certificate Program
The Faculty Academy on Teaching First Year Students will offer monthly learning opportunities through seminars and consultations throughout the academic year. Past seminars have addressed numerous topics in pedagogical innovations and using technology in the classroom. At the end of the academic year, participants are rewarded with a stipend and a certificate during the Teaching Award Ceremony attended by Deans, faculty and other certificate recipients. Equally important, participants will come away with resources that they can use and share in their teaching portfolios and become campus Scholarship of Teaching and Learning (SoTL) mentors and advocates.
AY 2016-2017
Eligibility
A total of 10 (ten) applications will be awarded during the AY 2016-2017. Applications for funding may be submitted by individuals or by collaborative groups by September 7th, 2016. Teaching faculty are eligible to submit an application with interest statement and commitment to the following activities. We have one spot left.
Meetings
Attend and complete preparation readings for at least 7 of 8 seminars offered on evidence-based practices for teaching first year students at a research university. During the fall 2016, participants will meet face to face on Wednesday, September 14, October 12, November 16, and December 7 from 12 to 1:15 in KL 159. Food will be provided.
The theme for this AY is "Implications of Deliberate Practice for Academic Performance." Here are some topics to be covered during the seminars intersecting with the AY's theme.
Engaging in the scholarship of teaching and learning (facilitated by Dr. James Zimmerman)
Developing learner's intrinsic motivation (Dr. James Zimmerman)
Using group work in small and large classes (Dr. James Zimmerman)
Learner-centered syllabus
Active learning activities
Developing and using rubrics
Diversity in the classroom
Critical thinking and general education
Classroom assessment techniques
Class observation and course evaluations
​Deliverables
Participants, individually or in groups, identify a topic related to the theme and then work collaboratively with the CETL "conducting systematic observation, documenting observations, analyzing results, obtaining peer evaluation, identifying key issues, synthesizing results'' (Richlin, 2001, p. 59). In this model, participants would develop and then work collaboratively to answer a question related to a teaching issue in the field and that impacts their teaching. At the end of the fall 2016, participants will submit of a mid-project progress report including current status of the project.
Complete a Capstone Project at the end of the AY. Participants write a report of the change and its impact. The report is shared with other participants at the final sessions and major public in the Faculty Academy website.
Participants are potentially expected to make a presentation about "lessons learned" from the classroom assessment carried out and how it affects their instructional outlook at a meeting during the next iteration of the Faculty Academy sessions and on campus Assessment as Research Symposium early in March.
At the end of the year, the Associate Vice Provost for Teaching and Learning presents participants with the stipends and certificates during the CETL Teaching Award ceremony. Participants then include the Faculty Academy on Teaching First Year Students Certificate and their capstone project in their personnel file after participating for the length of the program and as recognition for their investment in undergraduate education.
Budget
Each certificate program awardee receives $700 at the end of the academic year upon deliverables completion. Thus, funding goes toward attendance, reading preparation, teaching or SoTL related activities and lessons learned dissemination.
Focus Book (one copy for each of the participants) Engaging in the Scholarship of Teaching and Learning by Cathy Bishop-Clark and Beth Dietz- Uler
Food will be provided during the meetings.
References
Richlin, L (2001). "Scholarly Teaching and the Scholarship of Teaching." In C. Kreber (ed.), Scholarship Revisited: Perspectives on the Scholarship of Teaching. New Directions for Teaching and Learning, no. 86. San Francisco: Jossey-Bass.
Submissions? Questions? Ideas? Please contact
Adriana Signorini at asignorini@ucmerced.edu
Center for Engaged Teaching and Learning,
Educational Assessment Unit
AOA 111| 209 228 4766
James Zimmerman at jzimmerman6@ucmerced.edu
Center for Engaged Teaching and Learning,
Associate Vice Provost for Teaching and Learning
AOA 113| 209 228 4761