Certificate Program
Faculty Academy on Teaching First Year Students
CERTIFICATE PROGRAM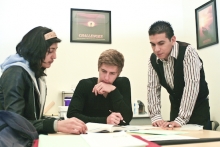 Background
UC Merced is a research intensive, Hispanic serving university with over a 170 faculty members teaching first-year students. The Center for Engaged Teaching and Learning (CETL) is pleased to announce and invite applications for the 2017-2018 Certificate Program. This CETL's Certificate Program supports the work of faculty members whose scholarship focuses on the university mission of teaching and research and addresses the expected faculty growth in mind.
Target Audience
The application for funding is open to new and returning, senior and junior faculty teaching first-year students at UC Merced and may be made by individuals or by collaborative groups. Individual participating in the Certificate Program will be considered as members of the Faculty Academy community.
Goals
Explore the instructional needs of first-year students and plan support activities.
Connect faculty with peers to share ideas on learning theories and pedagogies about teaching first-year students, both seminal and emerging.
Promote evidence-based practices among faculty teaching first-year students at UCM.
Build a coalition of educators committed to first-year student success who will act as change agents for student-centered learning at a research university.
Develop resources for all instructors teaching first-year students, with publication in the Faculty Academy website.
Outcomes
During the length of the program, participants will:
Identify and develop a classroom-based topic of interest
Craft research questions to explore that topic
Determine type(s) of data needed
Determine appropriate methods and analysis
Collect data
Analyze data, write up results and conclusions
Present project to the Faculty Academy community
Description of the Certificate Program
The Faculty Academy on Teaching First-Year Students offers monthly learning opportunities through seminars and consultations throughout the academic year. Past seminars have addressed numerous topics to engage faculty in the scholarship of teaching and learning. At the end of the academic year, participants are rewarded with a stipend and a certificate during the Teaching Award Ceremony attended by Deans, faculty and other certificate recipients. Equally important, participants will come away with resources that they can use and share in their teaching portfolios and become campus Scholarship of Teaching and Learning (SoTL) mentors and advocates.
AY 2017-2018
Eligibility
A total of 10 (ten) applications will be awarded during the AY 2017-2018. Applications for funding may be submitted by individuals or by collaborative groups by November 20th, 2017. Teaching faculty are eligible to submit an application with interest statement and commitment to the following activities. 
Meetings
Attend to and complete preparation readings for the four face to face monthly seminars offered during Spring 2018 to build the educational research project. 
The theme for this AY is "Small Teaching and Applying the Learning Science" Here are some topics to be covered during the seminars intersecting with the AY's theme.
Engaging in the scholarship of teaching and learning: Research Cycle, Context, and Problem to address.
Reflecting on Teaching and Learning: Literature Review
Generating a Research Idea: Innovation and hypothesis
Designing the Study: Methodology. Collecting & Analyzing the Data.
Presenting your results.
Deliverables
Participants, individually or in groups, identify a topic related to the theme and then work collaboratively with the CETL "conducting systematic observation, documenting observations, analyzing results, obtaining peer evaluation, identifying key issues, synthesizing results'' (Richlin, 2001, p. 59). In this model, participants would develop and then work collaboratively to answer a question related to a teaching issue in the field and that impacts their teaching. At the end of March, participants will submit a mid-project progress report including the current status of the project.
Complete a Capstone Project at the end of the AY. Participants design a presentation of the innovation and its impact. The presentation is shared with other participants at the final session in May and in the Faculty Academy website.
Participants are potentially expected to present about "lessons learned" from the classroom assessment carried out and how it affects their instructional outlook at a meeting during the next iteration of the Faculty Academy sessions during fall (November) and on campus Assessment as Research Symposium early in March.
Participants will complete the IRB training and IRB project submission as needed to collect and share student data with others.
At the end of the year, the Associate Vice Provost for Teaching and Learning presents participants with the stipends and certificates during the CETL Teaching Award ceremony. Participants then include the Faculty Academy on Teaching First-Year Students Certificate and their capstone project in their personnel file after participating for the length of the program and as recognition for their investment in undergraduate education.
Throughout your journey, you'll receive personalized support from your dedicated CETL team and the premier certificate you'll earn upon successful completion will act as a proof of your new competencies.
References
Richlin, L (2001). "Scholarly Teaching and the Scholarship of Teaching." In C. Kreber (ed.), Scholarship Revisited: Perspectives on the Scholarship of Teaching. New Directions for Teaching and Learning, no. 86. San Francisco: Jossey-Bass.
Submissions? Questions? Ideas? Please contact
Adriana Signorini at asignorini@ucmerced.edu
Center for Engaged Teaching and Learning,
Educational Assessment Unit
AOA 111| 209 228 4766
James Zimmerman at jzimmerman6@ucmerced.edu
Center for Engaged Teaching and Learning,
Associate Vice Provost for Teaching and Learning
AOA 113| 209 228 4761