Teaching Practices
Do you teach first year students?
Then you are part of their first year experience!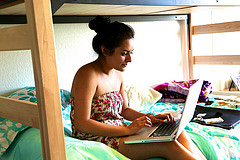 Developed by UC Merced faculty for UC Merced faculty, this website provides instructors of first-year students with resources to support their students' academic success.
Within this site, you will find a continuously evolving list of teaching tips and student support resources keyed to skills that UC Merced freshmen commonly need to develop in order to succeed in your course. Just click on a link on the left to find how and where to direct students for help with note taking or how to help your freshmen learn to use a syllabus.